Who is behind Angels Ambition?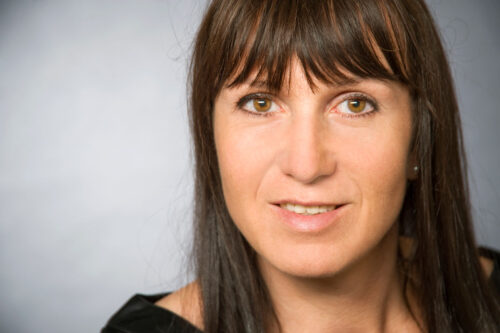 Since her apprenticeship as a tailor in 1987, Karin Schönbuchner has been involved in garment manufacturing. This was followed by an apprenticeship as a pattern maker and a degree as a master tailor and garment technician. After many years of professional experience in the garment industry as a garment technician and quality manager, countless trips around the globe, the idea grew to set up her own label: and to do things differently – better – than the rest of the fashion industry. With respect for the environment, not disposable products, but durable, high-quality textiles, not made in a low-wage country, but Made in Germany. And it should be clothing that serves not only one purpose – it should be multifunctional – you can wear it at home on the sofa, to go out, to yoga or under the blazer to the business meeting – Angels Ambition should make us look good and feel good on every occasion.
How did the name for the label come about?
It seemed obvious to us….
Angel accompany us on all paths and stand for the good in the world- for the protector.
Ambition translates as dream, goal, ambition and goal-setting- We attach great importance to issues such as sustainability, fairness and ecology.
How did Angels Ambition come into being?
So Angels Ambition was founded in 2016 by Karin Schönbuchner, we have been online since the end of 2016. The label is based on the basic idea to combine multifunctionality with current fashion trends and still produce timeless and high-quality clothing. The models should be created from organic fabrics, because in our opinion clothing must absolutely be free of any harmful substances, after all, you spend many hours in it every day of your life. In addition, it was very important to us to manufacture the products in Germany in order to avoid long delivery routes and potentially unsafe production sources and thus unfair working conditions. We want to support the few German manufacturing companies that still exist with our production here in Germany- especially in our area.
What is important to us at Angels Ambition?
It seemed consistent to us to look for our partners for photography or the construction of our webshop also in the closer environment, thus regionally. We also source – out of conviction – materials and ingredients that have been produced under fair conditions. To meet our high ecological standards, we mainly buy goods from German production. Most of the fabrics and ingredients we use are GOTS certified – an Oeko Tex certification is for us the minimum requirement for fabrics and ingredients. Since we always want to be open to new materials, such as Tencel, we try in this case to use goods of European origin (we also include Turkish origin), products from the Far East we avoid. Sustainability is very important to us as a company, as well as a fair and respectful treatment of the environment: we avoid plastic waste where possible and send our clothes in specially made cotton bags, which can also be used for other purposes – for example, when traveling or as bags for shopping. The shipping itself is done (as far as we can) in already used boxes to save resources and of course climate neutral.